Scroll down and discover the most modern ways to enjoy beautiful, classic Stockholm
2019 certificate of excellence
We are honored to recieve this year's Certificate of Excellence from Tripadvisor, thanks to our very high customer satisfaction and the fabulous ratings over at Tripadvisor. We have always perceived our customers as our bosses, and we will continue to do so and work tirelessly to always improve and never settle. Nothing else is more important for us than your experience and only when you have gotten a genuine smile on your face, have we done our mission.
We are so excited over our growth, and we would like to dedicate a big THANK YOU to everyone that has been a part of the journey. The sustainable journey.
Visit our Tripadvisor-page here.
Take a break from the city and enjoy this relaxing tour of Stockholm's most beautiful canal, DJurgårdsbrunnskanalen. There is no crowd, only you and the fairytale-like nature.
Enjoy the stunning views of Sweden's capital from a boat that has 360 degrees panoramic visibility. Many of Stockholm's most famous landmarks will surround you and make your tour unforgettable.
Create unforgettable memories from our most exclusive type of tour, where you are the only ones on board and detours are upon your request. Choose from 1 to 3 hours of private charter.
Our most exclusive tour just got even more exciting. Complete the private charter experience with your favorite food served while being toured. Can fun get any more efficient?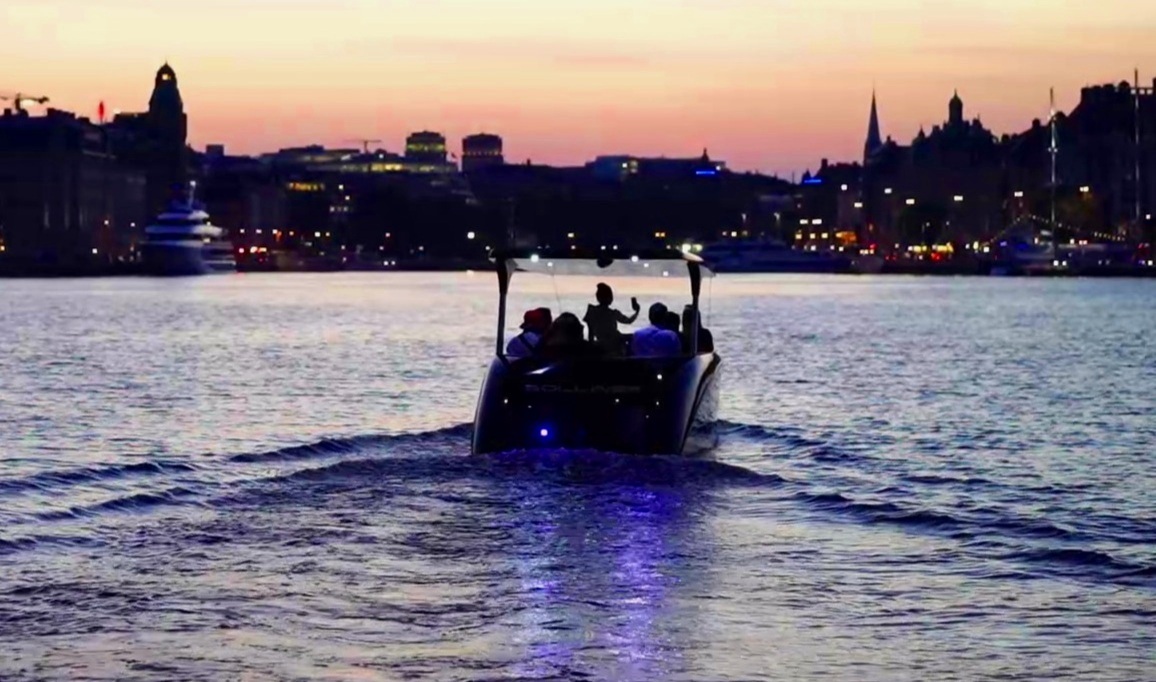 There's something truly magical about the atmosphere when having a boat tour in the evening. The lights from the city reflecting on the water, the silence, the calm air… It's all about you.
Let your imagination be the limit with custom-made tours. We can arrange everything from water-taxi, wedding transport, professional guiding of the city, photography to birthday parties. Attaching two boats for double the capacity? -no problem.
Share smiles with your colleagues with our offering of tours especially crafted for work-teams. This is an excellent way of starting or ending a season/project, or just getting to know each other better. You can also have a meeting on board.
About us
Solar Boat Stockholm offers two types of boat tours in Stockholm and both are guaranteed to make you smile and feel special, regardless what you plan on doing onboard. It can be everything from sightseeing to a meeting. Or why not a birthday celebration? The possibilities are endless, especially if you opt for our private charters!
Part of our recipe is a top-modern solar powered catamaran which is totally silent and has no CO-2 emissions at all. This is perfect for the environment and for you. The boats we operate also have panoramic 360° visibility from the inside, and no windows means that you don't only enjoy the sights but also the air and sounds coming from the surroundings. No windows are also great news for photographers!
The nine available seats are an advantage too. It's enough for most groups of people but not too much that the boat feels crowded. That would take away from the experience, and that's the last thing we want. Your experience is always our top priority.
STOCKHOLM departure locations
ROYAL CANAL AND CITY TOUR DEPARTURES ▼
Nybrokajen in Nybroplan, at the round part of the bay.
PRIVATE CHARTER DEPARTURES ▼
Strandvägen Kajplats 17A, in front of Glashuset restaurant.
customer reviews
customer satisfaction guaranteed